FLOATING FLORAL ARRANGEMENTS

INTRODUCTION
A series of floating floral arrangements illuminated with video projection. This project is a blend of my talents as a florist, my love of lighting with my passion for practical effects and video projection.

THE MISSION
The mission of this project was to push myself creatively. Revisit my love for floristry and blend it with my new found passion for video projection.

SERVICES
Lightform Projection Software / Floristry / Lighting / Videography / Video Editing / Motion Graphics
INTRODUCTION
THE PROJECT
Lucid Suspensions
is a series of floating floral arrangements illuminated with video projection. In this self initiated project, I blend my skills in floristry with my interest in practical effects and video projection. Each arrangement takes a day to create. I purchase the the flowers in the morning, take them home, make my installation, add projections, then capture. Through doing this project, I learned different projection techniques then I tested them out and practiced on each arrangement.
The process of making each arrangement, projecting onto it and capturing it with my camera is so enjoyable, it has become a regular creative exercise for me.
Me working in the studio.
THE PROCESS
CREATING THE ARRANGEMENTS

I use fresh flowers, so seasonal availability and budget are the first things I consider before selecting. Floristry like design (and all the arts) is a combination of the elements; scale, contrast, repetition, composition and so on. I like to think about these elements when I select the first flower. I evaluate its shape, texture, and visualise how it could be used in an arrangement before selecting flowers that complement it.
Timelapse of me designing Chloris.
For example, in Chloris I was initially drawn to the Andromeda which is a very textural flower so I felt it couldn't be the feature of the arrangement. So, I chose roses as the feature because they contrast the andromeda in size, shape, and texture. With the rule of odds in mind, I threw in Star of Bethlehem as an accent flower because they create a lovely swooping movement which contrasts and complements both the andromeda and roses.
Floral arranging is like getting dressed for a party, you pick the thing you are most excited to wear then base everything else around that one feature piece.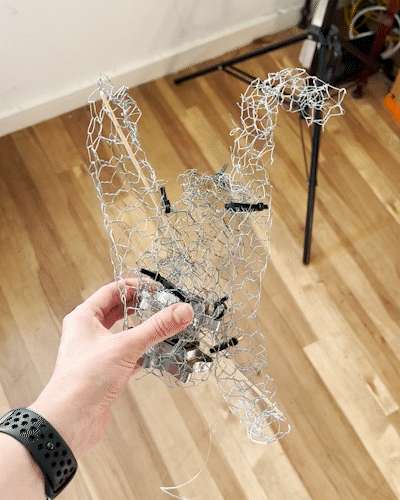 Wire armature that I build the arrangements on.
Once my selection is made, all the flowers are brought home, stems are cut and placed in buckets of water. While the flowers hydrate, I hang the backdrop, set up my lighting equipment and spray paint any florals if needed. The design is built onto an armature made of wire and hung by fishing line. The flowers are threaded through this armature and secured with a little water vial. This part of the process tends to be open to change. Stems break, flowers resit placement, sometimes I have to run outside and find something to add. When going into design I have a general idea of how I want my arrangement to look but it almost always turns out to be different than initially imagined and that is part of the fun.
Medium shot of Chloris.
THE PROCESS
LIGHTING AND PROJECTION

I used two different projection techniques for this series. The first was a simple no mapping approach using animations I created in After Effects. I projected these custom clips around my subject and filled the room with fog. This technique resulted in animated light beams moving around the arrangement.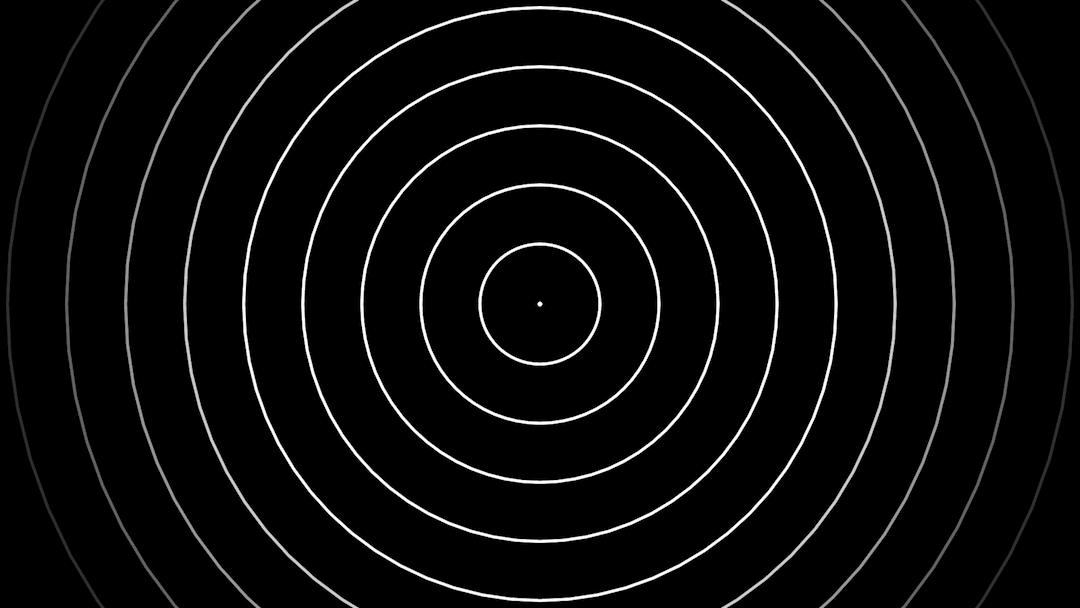 Custom Animation I created in After Effects and how it looks projected around Paeonia.
For the second technique, I use a combination of both custom animations and Lightform generated effects that are part of the Lightform Creator software. To avoid going into too much detail, watch this video where I share my creative process and how I use the Lightform LFC to make my work.
As a final touch I like to add some atmospheric lighting and colour to show off the shape of the arrangement, making it feel more dynamic.
Above: Mapping onto the flowers (left) vs. around the flowers right.
THE PROCESS
SHOOTING


I love in camera effects, so I decided to use a kaleidoscope filter and a prism to explore more experimental imagery. I find this hands on approach to shooting really fun because it opens up opportunity for surprises unexpected things you can work with while editing.



Footage captured using the kaleidoscope filter.


THE PROCESS
POST PRODUCTION
Once my footage is shot, I select my key moments, assemble them in a timeline and use content aware fill in After Effects to remove the string. You can find examples of my final versions on my social media pages
here
,
here
, and
here
.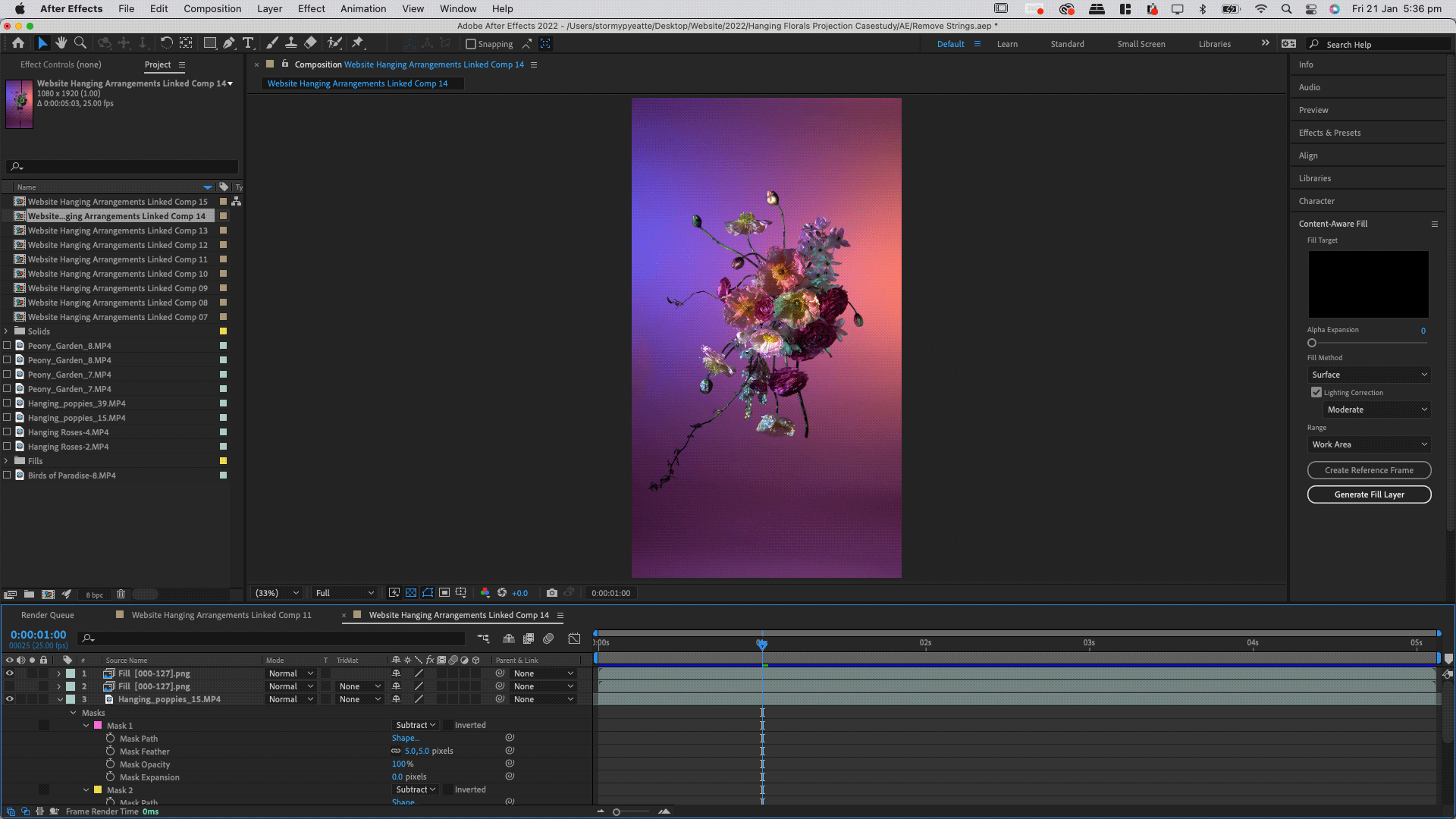 Removal of string with content aware fill in After Effects.
THE IMPACT
ADOBE COMMISSION

The release of Chloris caught the attention of Adobe and who asked me to create an arrangement for the offical Adobe Tiktok account. This video accumulated 500k views in one week and to over 1 million in two weeks. In that video I shared how Adobe was essential in the creation of Paeonia + Apollo. You can watch it on the official Adobe Tiktok account here.

Me and my work on the official Adobe Tiktok page.
Want to 'WOW' the guests at your next event? Let's chat.
stormypyeatte@gmail.com